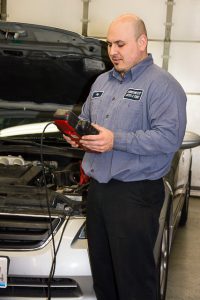 Meet Ray, Automotive Technician
Ray graduated from Universal Technical Institute in 2004.  He has been working here at Northwest Auto & Tire for over 10 years.  He started his automotive career by attending Universal Technical Institute.  After graduating Ray went on to become a certified Lexus technician.  He then joined our team here at Northwest Auto & Tire.
Ray has never stopped leaning his trade.  He keeps up by attending many seminars and classes throughout the year.  I've enjoyed watching him move from apprentice to becoming an A.S.E. certified technician.  It's great to have him on our team. He has developed great diagnostic abilities. This has become so important in diagnosing today's complicated vehicles.  He is very dedicated to his work.  None of his jobs leave before he has checked, and double checked his work.  He wants to make sure it is right before it leaves our shop.
I also enjoy the fact that he is very computer literate.  When problems arise that need intense research he is quick to find a solution.  More often than not he will be the first one at the computer console finding answers.
He's been a great asset to our team!
You can click here to learn more about our team.