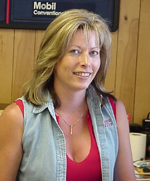 Mariska Minkus
Every Shop Needs A Mariska!
Mariska Minkus joined the Northwest Auto team in December 1997. Along with her pleasant personality and quick smile she brings a wealth of experience from her more than 38 years in the auto repair field.
For sure, she is one of our greatest assets. She easily handles all the various office duties. Including scheduling appointments and doing all the book work.  She is also a valuable asset to our technicians. Specifically she helps them locate hard to find parts.  And she also assists in procuring whatever specialty tools they need. She also schedules their training classes.
Her extensive knowledge is what continues to make Northwest Auto & Tire successful.  It is not just her extensive knowledge, but also her attention to every detail that makes her so exceptional.
Click here to learn more about the rest of our crew.