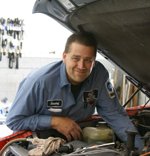 Howard Joness
It's all about finding the right people!
Howard Jones joined the team here at Northwest Auto & Tire in September 2005.  He came to us with 17 years experience as an automotive technician.
We were a very busy shop looking for a good technician to join our workforce.  Howard was a great fit, and we soon asked him to become our shop foreman, in this position Howard ensures that all the work is done correctly before it leaves the shop.  He also has become a mentor, and instructor to the younger technicians.
We have many resources available to us to keep our technicians up to date with all the latest technology.  Howard attends several classes and seminar's every year, making sure we keep the skill set up on all of employees.
I have learned many things in the 42 years I have owned Northwest Auto. To do a good job, you have to have good equipment and tools.  You also need employees that know how to properly use those tools.  Howard makes sure that we have the right tools, and also makes sure that our people know how to use them.
Howard and his wife Loretta live in Beach Park with their three children.
You can click here to learn more about the rest of our crew.