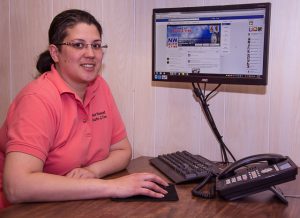 Meet Susan Deedon.
Susan Deedon, Keeping track of all our stuff!
Susan Deedon, daughter of Skip Deedon, lives in Zion with her fiancé and 5 children. She is a Registered Nurse specializing in taking care of infants in a Neonatal ICU.
While most of her work is done behind the scenes, Susan has become a vital part of keeping things going at Northwest Auto & Tire.  Susan has taken on a lot of responsibilities since she join our team.  She has taken over the responsibility of running our electronic sign.  She does a good job of keeping up with our Facebook page.  Susan also handles most of the marketing and public relations for Northwest Auto & Tire.
Susan has also taken on the job of keeping up with our inventory.  She makes sure we don't run out of critical inventory, such as all the different oils and other fluids we use in today's modern cars.  We use to stock two basic oils, now we have to keep up with over 6 different types of oils, from regular oil to all the different blends of synthetic oils we use every day.  She also keeps up with all the popular parts that we keep on hand to be sure the technicians have the right parts on hand to finish the job as soon as possible.
S
usan loves watching the Blackhawks, the Packers, and cheering on her Cubbies!  When she can find the time, she enjoys camping and hanging out at the beach with her family. She also helps educate others about the proper use of essential oils.
You can check out our Facebook page here. https://www.facebook.com/NWAutoTire