Those pesky cotton wood seeds. If you have been driving around Zion the last few days I'm sure you have seen all the cotton seeds in the air. These pesky little seeds get sucked into your A/C and can quickly plug up your evaporator core.
The best thing you can to to prevent this problem is to leave your air conditioner in the recirculation mode until they are gone. When your A/C is set to "Recirc" it pulls air from inside the car, and not from the outside of the car. 
This will help prevent your evap core from getting plugged, and save you a lot of money!
Update:
So just after I posted about the problems cotton wood seeds cause I walked out into the shop and saw this on a car that is being service. This is a late model Ford, and I see that they have a screen on the cowl inlet that will stop most of the seeds from entering the car. Most cars don't have a fine screen like this.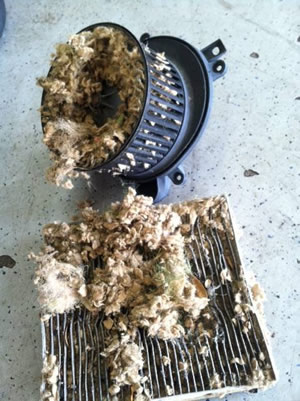 And yes, we did clean them our before returning the car to the customer.